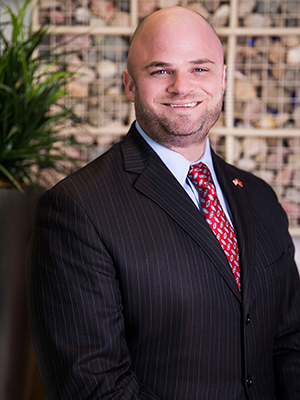 Chet R.
Bennetts, CFP®, ChFC®, CLF®
Financial Planner
Chet's personal mission statement is to "serve with a purpose that is greater than merely self-preservation." Whether helping a surviving spouse figure out how life will work alone, working with a young college graduate to set up their first budget, helping a family run their business/farm to continue their family legacy, or assisting a retiree with all the "what now" questions; Chet knows that by serving people in this manner, he is making a difference in people's lives and in the community.
Serving people is a passion of Chet's. It began with enlisting in the Marine Corps (1998-2007) where he had a great indoctrination into what honor, courage and commitment mean. Being able to translate that into civilian life after being medically discharged was a bit challenging for him at first. But Chet was soon able to find his new mission and he ran with it both personally and professionally. Outside of serving clients, he coaches young adults in leadership principles and volunteers in many aspects of his church; including serving on the board, leading worship and working with the youth. Having played football in college, Chet loves coaching and has coached all ages from YMCA flag to high school athletes.
Chet has been married to his wife, Sarah, for almost 20 years and they have three kids. His family lives on a small farm west of Denton where they raise chickens, ducks, bees and koi fish. They all love to travel and go on short-term mission trips during the summer.
Specialties:
Retirement readiness and wellbeing through retirement income and income distribution planning
Business and Management Succession Planning
Guidance in employer planning and implementation strategies for their employee benefits, wellness programs, and retirement plans
Providing education and strategies for risk protection and financial security
Family and individual financial planning and estate planning
Registrations:
Series 6, 7, and 24 - Principal Securities Registered Representative
Series 66 - Principal Securities Investment Advisor Representative
Certified Financial Planner™ Certificant
ChFC (Chartered Financial Consultant)
CLF (Chartered Leadership Fellow)
Business and Community Involvement:
National Association of Insurance and Financial Advisors (NAIFA) - Lincoln
Financial Planners Assocation (FPA) - Nebraska
Society of Financial Service Professionals (SFSP) - Lincoln Chapter
United Way
Junior Achievement - Board Member
Veterans of Foreign Wars (VFW)
Disabled American Veterans (DAV)
American Legion
Marine Corps League - Cornhusker Detachment